A Dry Winter in the West.
6th March 2021
Covid -19
The Scottish Avalanche Information Service issues information to support permitted activity under current Scottish Government guidance.
This blog is intended to provide hazard and mountain condition information to help plan safer mountain trips.
It was another dry day on Ben Nevis today. Through the day the cloud level lowered, and the freezing level creep upwards. The first signs of a return to more unsettled Atlantic weather which is expected over the next few days. The snowpack remains very hard and icy, a slip on steep snow would likely have very serious consequences.
The met office rainfall anomaly map for this meteorological winter (1st Dec to 28th Feb). Most of the UK had a wetter than average winter. The exception to that is North and West Highlands (as well as some of the islands) which were in the rainshadow during the periods of Southerly and Easterly winds.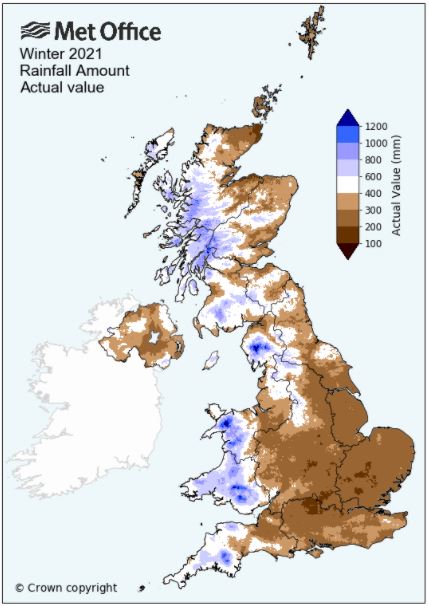 However, if you look at the actual rainfall map of the winter, the hills in the West of the UK stand out as being wetter than the rest of the country. The fact that the West Highlands had (other than a few small areas in the Lakes and Wales) more actual rainfall during the winter, and yet were also one of the few areas that had a negative rainfall anomaly, shows you quite how wet the area tends to be during the winter. This wetness has its advantages, but it also has disadvantages!
Comments on this post
Got something to say? Leave a comment