Clouding in on Aonach Mor
10th May 2013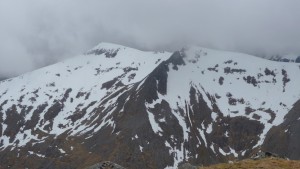 Carn Mor Dearg with the cloud building behind.
Looking down a misty Easy Gully. Still plenty of snow in there.
Cracking and slumping of the snowpack at the top of Easy Gully.
Like last Sunday today started off quite nice but soon deteriorated By the time I had got to the top of Aonach Mor the cloud had rolled in and there were some flurries of wet snow.
Comments on this post
Got something to say? Leave a comment