A wild and snowy day
28th January 2013
It was another wild day with lots of fresh snow on Ben Nevis. The freezing level remained around 800 meters for most of the day.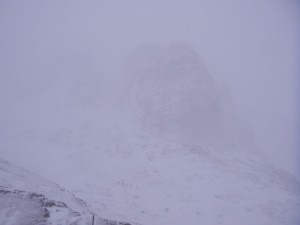 The weather was a not quite so wild during the morning. Carn Dearg buttress looming out of the cloud. A party can just be seen heading up the hill.
At the pit site. We found various shearing layers, this one at 22cm. Weather conditions started to deteriorate rapidly around this time.
Wild and snowy conditions at the CIC hut when we passed it on the way back down the hill.
Comments on this post
Got something to say? Leave a comment