Some sunshine at last.
2nd March 2012
After a long period of mild, cloudy and damp weather (the last time we saw any hint of sunshine was Sunday the 19th of Feb, almost two weeks ago) it was nice to see sunshine and get some views todays. Here are a few pictures of Aonach Mor today.
The North side of Coire an Lochan.
Cracks above Easy Gully.
Looking down to the loch of Coire an Lochan. I am not sure if you can see it in the picture, but the remaining ice in the loch is covered in mud, dirt and rocks, which must have been transported there by avalanche.
The South side of Coire an Lochan as the cloud starts to roll in.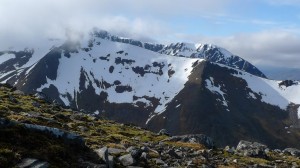 Looking over Carn Dearg Meadhonach to Ben Nevis.
Comments on this post
Got something to say? Leave a comment