Ben Nevis day.
31st March 2012
Another mild and spring like day on the Ben. However, a return of colder conditions is expected next week.
The North Face as seen from the approach.
Still a fair bit of snow in Coire an Ciste and Number 5 Gully.
A team of three head up the lower section of Observatory Gully to get onto Tower Ridge. The top of observatory gully might not be the wisest place to be at the moment given the continued risk of rock and ice fall in the spring conditions.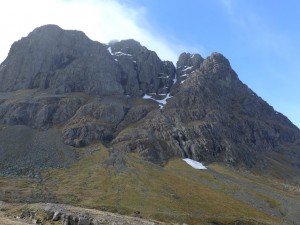 Carn Dearg. The lowest patch of snow, at about 600 metres, is the lowest remaining snow on Ben Nevis, (and possibly in Scotland?) at the moment. It is formed from the debris of the many avalanches which come down the Castle Gullies every winter, and is evident most springs.
Comments on this post
Got something to say? Leave a comment