Lots of things falling down.
21st February 2012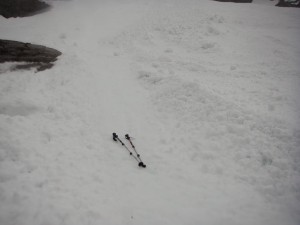 Avalanche debris below Number 5 Gully. This would have come down sometime yesterday (Monday).

Avalanche debris onto the loch in Coire na Ciste. The slopes of the West and South West of the Lochan are covered in debris from two large avalanches, one down by Trident Buttress, and the other from Number 4 Gully area.
Some big lumps of ice have come down in the past few days.
A fair few rocks have fallen off as well.
Comments on this post
Got something to say? Leave a comment