Aonach Beag
7th February 2012
Had a good little trip over to Aonach Beag today. Another nice day, but as can be seen in the pictures the first sign of a change in the weather can be seen out to the South-West. It is forecast to be milder on the summit of Ben Nevis tomorrow than at sea level on the South East coast of England. Terrible!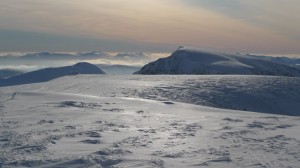 Looking south from the summit of Aonach Mor to Aoanch Beag.
About to head down to the col with Mamores and the hills of Glen Coe in the background.
Heading home via Summit Gully and Coire an Lochan.
Comments on this post
Got something to say? Leave a comment