Windy again on the Ben
18th February 2011
Ben Nevis hiding in the cloud.
Carn Dearg Buttress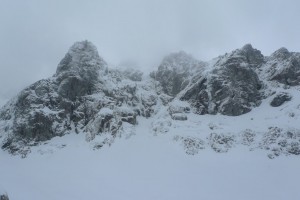 Trident Buttress during a brief gap in the cloud.
It was another windy day on Ben Nevis. The cloud cleared a bit while I was walking in, allowing a brief view of some of the crags. There looked to be a bit of ice about, with routes like Mega Route X and The Shroud starting to form. There was also a fair bit of fresh windslab about, especially at higher levels. Looks like we are in store for a wild weekend.
Comments on this post
Got something to say? Leave a comment