Back to Beag
6th January 2011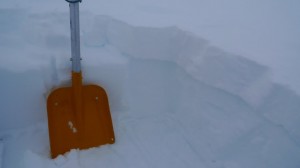 A quick stomp round the top of the snow pit, and the top 10cm to 15cm of the snowpack sheared off quite easily.
Looking South to Aonach Beag.
Some pretty substantial cornices exist. Although you can't see it in this picture, some large cracks exist about 5 feet back from the left hand end of this cornice.
It was back to Aonach Beag for me today. Most of the way over Aoanch Mor with in thick cloud, but it cleared up for a brief period when I got to when I got to the col. The snow down to the col had a slight wind crust on it, making for some quite tricky skiing. At higher level there has been a fair bit of fresh snow over the past few days. It was quite mild when this started to fall, and then turned colder, so the deeper layers of this fresh snow are quite well bonded. However, the top layers are not so well bonded (see top photo).
Comments on this post
Got something to say? Leave a comment