Aonach Mor on Tuesday.
16th March 2010
Still some large cornices on the top of Coire an Lochan.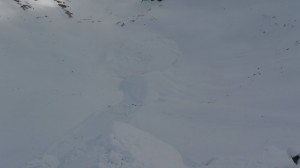 An avalanche that released (probably sometime yesterday) due to a large section collapsed cornice. Debris made it down to the Loch.
Lots of people heading down Easy Gully (or at least thinking about it). Coire an Lochan probably had it's busiest day of the winter today.
Comments on this post
Got something to say? Leave a comment