A nice day at last
29th March 2010
It feels like a while since we have had a nice clear day like today, here are some pictures.
Looking over towards Ben Nevis and Carn Mor Dearg. I reakon that ice climbing conditions high on the Ben would have been great today.

Some cracking appearing by my footsteps on on a small test slope.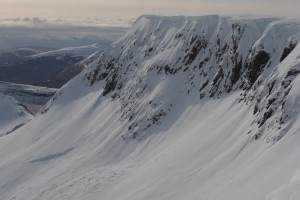 The crags at the south end of Coire an Lochan of Aonach Mor. Note that crown wall down and left.
Recent avalanche debris reaching the lochan, with one of these slides coming from the crown wall seen in the previous picture.
Comments on this post
Got something to say? Leave a comment