Another sunny day.
21st February 2010
It was another beautiful sunny day today. Here are some pictures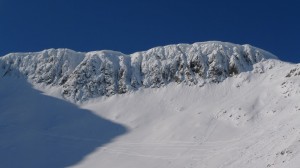 The crags in Coire an Lochan a buried in soft snow. There have been few climbers on Aonach Mor (Ben Nevis has been popular from a climbing point of view thought). The ski tracks that can be seen come from Easy Gully. The corniced entrance to the gully looks a little exciting at the moment.

Avalanches have occurred on South facing slopes during the past few days due to solar warming.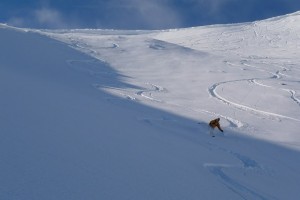 Some very good skiing in the Back Coires. Here Matt cruises down Spikes Gully
Some substantial surface hoar crystals have formed in the cold and settled conditions. These large, feathery crystals are likely to form a weak layer if survive long enough to be buried by the next snowfall.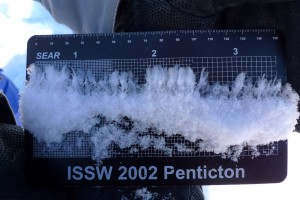 A cross section of the surface of the snowpack frozen to the crystal card. You can clearly see how the large surface hoar crystals have grown out of the finer crystals below.
Comments on this post
Got something to say? Leave a comment