22nd January 2007
View from Aonach Mor today.
Has anyone seen any avalanche activity up the Ben over the last few days? Please feel free to email me any details..
At last, a cloud free day on the summits. Cold with some fresh snowfall overnight. The NE wind has moved some of the soft windslab from yesterday. Most of the crags look plastered. Fab off-piste skiing today!
View up towards the crags on Aonach Mor.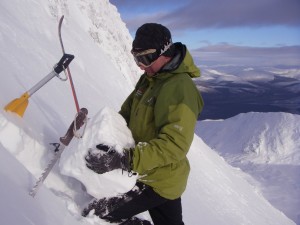 Here is a shot of the shear that was obtained in the snowpit today. The bonding is inproving but the slab still pulls out in a fairly cohesive lump. It is sliding on a fairly thin melt-freeze crust that was formed a couple of nights ago.
Comments on this post
Got something to say? Leave a comment