Good conditions in Lochaber.
28th March 2008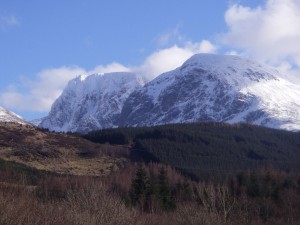 Looking up towards Ben Nevis on Thursday (27th March)
Some great off piste skiing in the Back Coires of Aonach Mor (27th March)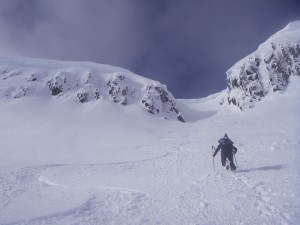 Walking back up having just skied Easy Gully (27th March)
After an amazing day in Lochaber yesterday, the weather conditions weren't so great today. From what I could see, climbing conditions on Ben Nevis are looking pretty good at the moment. Certainly conditions on the classic ice routes are reported as good. In general the snow cover is good at the moment, and likely to further improve over the next few days. Yesterday there was some amazing off piste skiing to be had in the back coires of Aonach Mor. However it is worth noting that avalanches are common on the slopes pictured above, and these areas should skied unless you have a good understanding of avalanche conditions and appropriate safety equipment. If unsure, the Nevis Range ski patrol will happily give you some advise as to where is safe.
Windy conditions with more snow in the evening is expected tomorrow (Saturday). Much more pleasant mountain conditions are expected on Sunday. However there is likely to be large areas of windslab about, so care should be taken.
Blair
Comments on this post
Got something to say? Leave a comment