Winter is here!
15th December 2006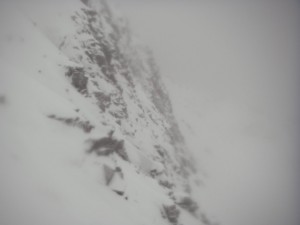 Well winter is definitely here. Up on Aonach Mor today with fairly strong westerly winds and heavy snow showers. Reasonable cover above 800m with fairly good accumulation for the time of year.
On the summits the wind has created fairly widespread neve patches.
Abseiled into the top of Left Twin and the neve here is good, although there were widespread accumulations of shallow windslab here also.
This fuzzy picture is to show you that winter is here! Its a picture of the crag on Aonach Mor.
Off up the Ben tomorrow with the camera to see what is happening there.
Comments on this post
Got something to say? Leave a comment