Damp day.
28th December 2012
A mild and damp day. It was not quite a wet or as windy as I had thought it might be. However, it certainly was mild, plus five degrees on the top of Aonach Mor at midday.
Looking up toward the Minus Face and the Douglas Boulder.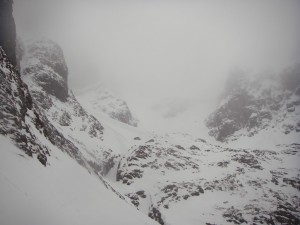 Looking into Coire na Ciste. Avalanche debris can be seen centre left of the picture. This probably came down in the early hours of this morning as the temperature rose and the snow turned to rain. Fresh debris was also noted below Number 3 Gully, Number 4 Gully, Trident Buttress, Number 5 Gully and the Castle Gullies.
Lots of water about, with the snowpack getting pretty wet.
Comments on this post
Got something to say? Leave a comment