Winter returns
3rd April 2011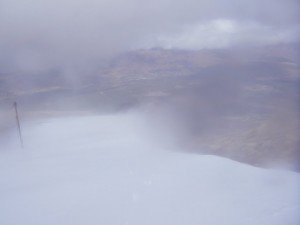 Blowing snow on the Nid ridge.
A drift of fresh snow.
Winter made a bit of a reappearance today, with heavy showers falling as snow above about 800 metres. Above about 1000 metres there were some quite substantial drifts, and some fresh cornice formation. A small cornice triggered avalanche was observed in the Back Corries of Aonach Mor. However, looks like a return to mild conditions tomorrow.
Comments on this post
Got something to say? Leave a comment