Big snow fall
14th March 2011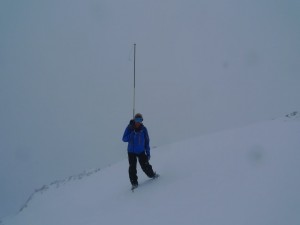 A three metre avalanche probe.
When pushed into the snow only about 10cm sticking out.
There has been significant snowfall over the past couple of days, with the winds from the East or North-East. There was no snow on this westerly aspects a couple of days ago, now there is almost 3 metres of windslab. This is not particularly stable, especially where it is sitting on top of the old hard neve. Poor visibility over the last couple of days has meant that I have not seen any avalanches from this storm cycles, however I am sure they have occurred. If you do see any evidence of avalanches, we greatly appreciate your reports. An avalanche reporting form can be found on the SAIS website.
Comments on this post
Got something to say? Leave a comment