Aonach Beag
2nd January 2011
Climber belaying on Coire an Lochan. Conditions were reported to be quite verglassed.
Looking East over the Grey Coires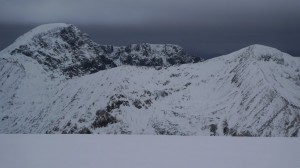 The Ben
Aonach Beag.
Despite a slightly threatening sky it was quite a pleasant day on the hill. I took a wander over to Aonach Beag. The snow is generally pretty firm with crampons being necessary on all but the gentlest of slopes. Although isolated there are a few wee pockets of slab about.
Comments on this post
Got something to say? Leave a comment