The end.
10th April 2010
With almost unbroken sunshine and some very warm temperatures (it was +7 degrees on the summit at midday, probably higher during the afternoon), it really felt like winter was over today. It feels like it has been a particularly long winter this year.
There is still a good covering of snow at higher levels, with plenty of large cornices waiting to fall down, and on Ben Nevis especially the continuing risk of ice fall.
The top of Easy Gully, notice all the marks in the snow from collapsing sections of cornice.
Looking into Coire an Lochan, large cornices remain.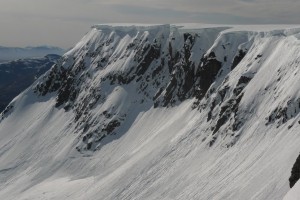 The South Side of Coire an Lochan, the slopes below the crags have been marked by sections of collapsing cornice and ice.
This little fellow was spotted out yesterday, maybe time for an alternative SAIS (Scottish Amphibian Information Service) report. Significant frogs are likely on steep slopes and boggy ground on all aspects above 500 metres.
See you next winter riiibeeeett.
Comments on this post
Got something to say? Leave a comment