Fresh Snow
15th February 2010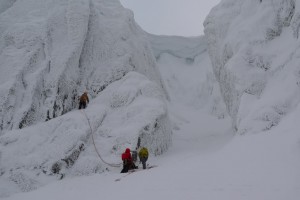 Climbers on the classic mixed route Stirling Bridge a couple of days ago. This route has been seeing a fair bit of traffic over the past few days. You can see the size of the cornice on the gully on the right. This team did the hard pitch and then abseiled off rather than trying to battle through the not quite so large, but still formidable cornice above the route.
The summit plateau of Aonach Mor today in a brief clear moment.
A fair bit of fresh snow at higher levels today.
More forecast tonight and tomorrow.
Comments on this post
Got something to say? Leave a comment