Now and then.
31st January 2010
It was quite cloudy on the top of Aonach Mor today, so no great pictures today. Through the course of the winter we see significant changes in snow cover. In certain areas the snow builds up to great depths. When standing at the top of, for example, Easy Gully, I often wonder just how much snow there is under my feet. I am still not sure, but thought I would put on some pictures of the top of the East Face taken recently (still quite early in the season), to compare with some taken in the summer to give an indication of snow depth, and how the character of the place changes.
Climbers above central buttress last week.

The top of central buttress is late August. Note firstly that the fence posts are just back from the change in angle, and secondly there are a couple of patches of snow still visible in the background. Last summer (2009) all the snow melted on Aonach Mor during the summer, but a patch did survive over on Aonach Beag. The previous summer 2008, patches of snow survived all summer on both Aonach Mor and Aonach Beag.
The top of Easy Gully yesterday (Sat 30th).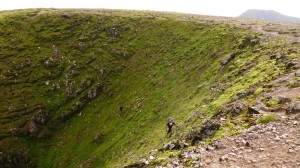 The top of easy gully in summer (during a rare summer ascent of the gully).
Comments on this post
Got something to say? Leave a comment